What You Can Do To Help Stop This...

1. Volunteer to help us. We have formed many committees to organize our efforts, but we
need many more volunteers to share some of the workload. Go to Contacts for a list of our
committees. Please contact the committee chairs directly, or e-mail info@saveoaksavanna.org
and we can discuss what you can do to support our cause.
2. Support the Woodland Hills Home Owners Organization (WHHO) – they'll be fighting much
of this battle for us and need every family to support them. The larger their membership, the
stronger their voice. It is only $20.00 a year, which is minor for the advice and support they
have given us. In addition, they provide many other services, such as the Concerts In The Park
that many of us enjoy for free. Go to Links for the application and mail it in TODAY!
3. Make a monetary donation to Save Oak Savanna to help us with administrative and legal costs.
Having our Land Use attorney at these next critical stages is well worth our expense. We need
your help to raise enough funds to afford his representation during this process, which will
include at least one more Advisory Agency/Zoning Action Hearing Officer Concurrent hearing,
and at least one hearing at the South Valley Area Planning Commission.
His presence at all future hearings is critical to SOS's continued success.
4. Sign up for the Ralph's Contribution program. This gives SOS 5% for all of your purchases
at Ralph's when you use your Ralph's card. This does not cost you anything. Ralph's makes
5% donations from all sales and you are only choosing to have your 5% go to SOS, a non-profit
community group. These donations are bringing us some small but helpful funds and with
more participants, can go a long way to help fund our efforts.

SOS is succeeding in each step, but there is more to come.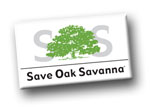 Please send your donation payable to Save Oak Savanna to:
Dave Breliant
4606 San Feliciano Dr
Woodland Hills, CA 91364
(818) 348-0986

HELP US NOW BEFORE IT IS TOO LATE!
Make a Difference and Save Oak Savanna and Your Neighborhood

©2005-2010 Save Oak Savanna

Logo design by Schumacher Onaitis Creative www.sonaitis.com