Media
Recent articles and newsletters

We Can Help In Your Neighborhood!
Recent Burglaries, Issues with Developers, Oak Tree Removal, Lost Dogs
If we've dealt with it, we'll share our experiences with you.

Neighbors! Please help us keep you informed by keeping us informed of any changes to your email address.
Send any updates to info@saveoaksavanna.org. Give us your old email address to delete and we'll add your new one.

Westfield/Costco Development Plans
Keep informed and get involved. This will effect all of us in the Western San Fernando Valley.
Check here now for new information on this important project.
The comment period has been extended to 5 pm, April 20, 2011!


THANK YOU TO ALL SOS MEMBERS AND SUPPORTERS!!!

The strength of SOS and its members is evidenced by the developer's reluctant withdrawal of their original plan
to build 39 condos and their current plan filed with the city for 29 units. They have also proposed a 23 home plan,
which is still unacceptable to the community for all the same reasons as their previous plans. SOS remains concerned
about many aspects of the project, which is not at all consistent with or compatible with the surrounding
neighborhood (as recommended by the Mulholland Design Review Board guidelines).

SOS still opposes the project & needs Community support in opposing the developer!

WE NEED YOUR HELP to speak up against this development, before it's too late.

Please check back with this website for continued updates and for details about the upcoming 2nd Public Hearing.

info@saveoaksavanna.org
(818) 348-0986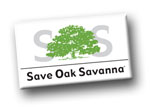 Donations are being accepted to help with legal and administrative costs.
Go to What You Can Do for more information.




Together, we will stop this from happening.


©2005-2011 Save Oak Savanna

Logo design by Schumacher Onaitis Creative www.sonaitis.com